Relating Plato's Republic and Investigating Questions
1) Introducing the question: What is justice? Preliminary discussion. Looking for contradictions.
Chapter 3? Robert Horn: Visual language. Gamestorming. Working together.
2a) Thought experiment: Imagining extremes. Is it better to be just or to seem just?
Stepping in and stepping out. Truths of the heart and truths of the world. Emotional responses. Counterquestions. Needs, operating principles.
2b) Thought experiment: Analogy of a person and a city. How does justice arise?
Using the relevant data.
3) Subquestion: What mindset, what training is required for justice
Training required for deepest value, and for thinking.
4) Drawing a principle from a structure: Identifying justice in the structure of the city
Chapter 4? The quality without a name. Structuralism: how to talk about absolutes. Finding a place to start: (Descartes - doubting). Everything. Divisions of everything: twosome, threesome, foursome. Many examples, especially the importance of the three-cycle in investigation (I think therefore I am). Representations.
5) Facing challenges to radical ideas: A) Equality of men and women. B) Children raised by the state. C) State ruled by a philosopher.
Natalie d'Arbeloff. Hands-on work. Circle folding. The kinds of opposites.
6) Describing the basis of a radical idea: the abstract thinking required for the study of the Good.
Beauty as a guide in mathematics. Mandelbrot set vs. Simplex. Twelve topologies (and Kant's twelve categories). Fifteen principles of life. Wholeness transformations.
7) Explaining what makes the radical idea difficult: the story of the Cave.
Context. Plato's Republic: cave. Obstacles by the system we live in (Alexander, Saranka). Plato's microscope. Buckminster Fuller - poet-prophet. Talking to the Universe.
8) Understanding deviations that make the idea unusual: the unjust cities.
Chapter 5? Patterns: structure/activity/tensions. How to document them. How they come together in a pattern language.
9) Comparing the extreme cases: the philosopher and the tyrant.
Six visualizations: Morgan D. Jones. Software tools for Thinking. Unified Modeling Language. Paradoxes.
10) Drawing conclusions about human nature based on what we've learned about our weaknesses. And new questions!
Chapter 2? Buckminster Fuller's question? Deepest values. Investigatory questions. The method of classifying and organizing.
Chapter 1 Philosophy (unsolved riddles), technology (solved riddles) and science (solutions). Philosophy as the pursuit of wisdom about life. Existentialism as our situation in life. Do we know ourselves: What is our deepest value in life? Are we growing further: What is a question that we will investigate? Will consider ways of figuring out. Start with Christopher Alexander's practical question: What makes a building alive? Phenomenology: Can we agree on what is "alive"? Go through Alexander's examples.
Creativity in Math. The general example of how we figure things out. Overview of a system of the ways of figuring things out. Compare with Descartes' universal problem solving.
Stephen Toulmin: Uses of Argument. Heidegger's world, Aristotle's techne, Plato's know-how. TRIZ. Other examples of the comprehensive system of figuring things out.
Ethics: The Algebra of Copyright. Stating more broadly the whole system of ways of figuring things out.
Conceptual revolutions: "The Astronomical Distance Ladder by Terrence Tao" (watch together).
A future revolution? Automata. Stephen Wolfram.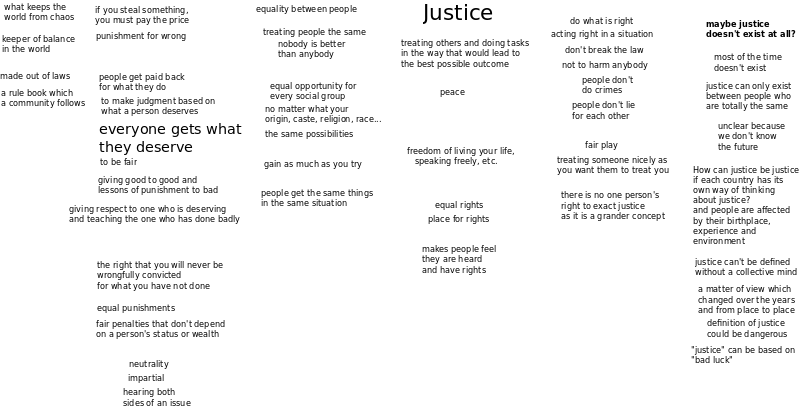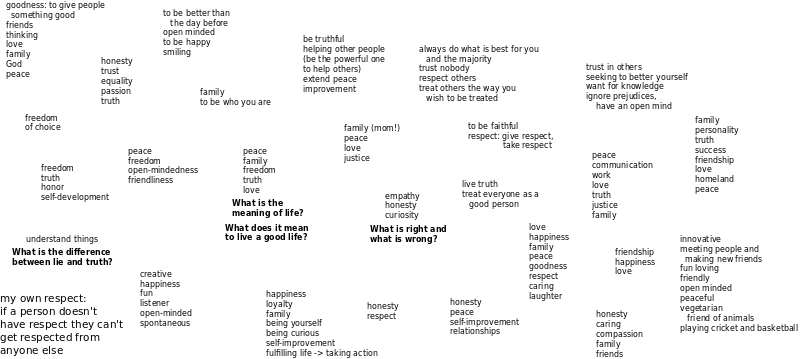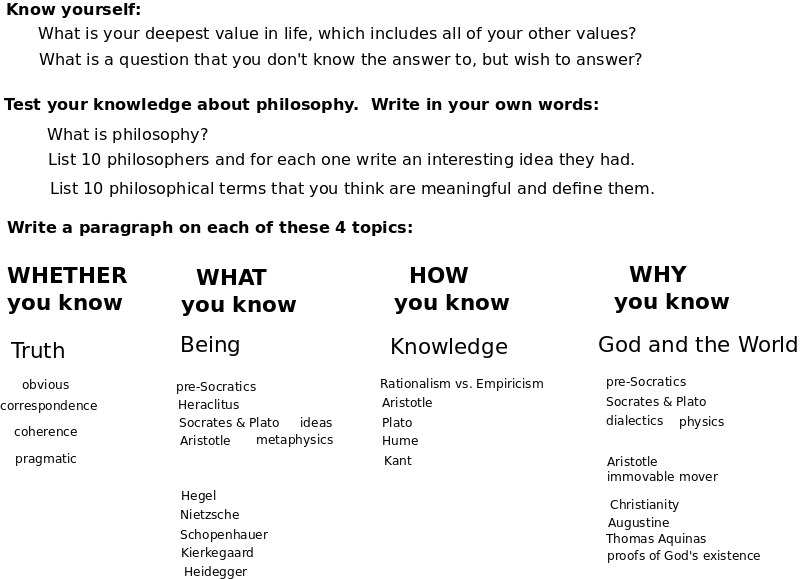 Organizing examples of what is unjust and what is just. Categories:
People have to suffer without a reason.
Lack of equality.
Greed: You gain, they lose, you don't care.
Not being helpful.
Hurting people because they are good.
Don't treat others with dignity.
Treating others badly for fun.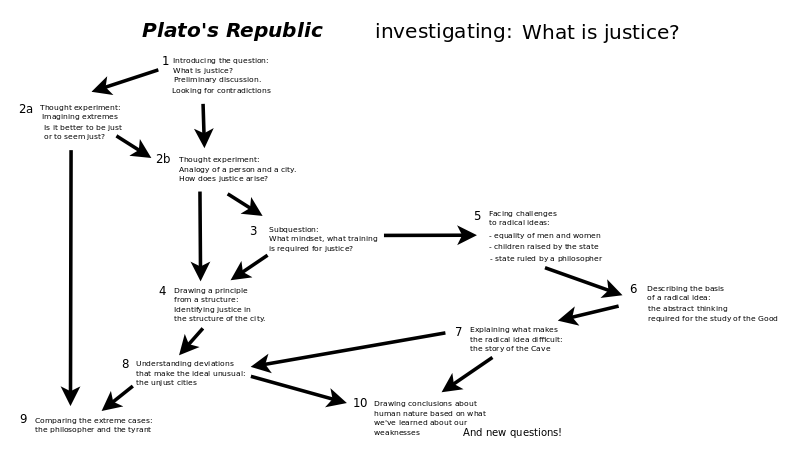 ---
LIFE - meaning of life, death, capital punishment, failure, social status
WHY: What is the point of living? What is the most important thing in life?
HOW: What should be the goal for your life? If I fall then what should I do?
WHAT: What does success actually mean? What is death and when is death just?
WHETHER: Is it worse to fail at something or never attempt in the first place?
KNOWING consciousness, truth, integrity, authenticity
WHY: Is living by the truth essential?
WHAT: What is the requirement for having awareness? What is truth?
HAPPINESS happiness, eudaimonia, social status, philosophy of happiness
HOW: What is the best way for a person to attain happiness? How to be happy and how to make other people happy?
WHAT: What does it mean to live the good life?
WHETHER: If money can't buy happiness, can you ever be truly happy with no money?
RIGHT & WRONG ethics, peer pressure, social justice, social equality
HOW: How to be a good person? How does the majority affect us?
WHAT: What is wrong and what is right? What is right and what is wrong?
WHETHER: Is equality possible?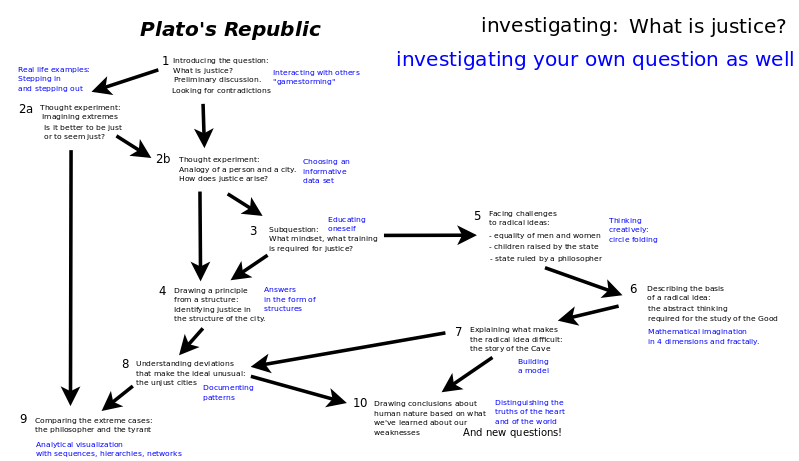 quotes, podcasts, videos, ted talks
Midterm: November 13, Final: December 11
Facts of real life <=> Language of absolute truth (Give example of thinking in 4D).
Ask Why? you are asking your question.
Find a philosopher who wrote about your question.
Wisdom not interested in anything less. Problem of society - different than the wise man. Warning: Not listening to society but listening to the facts and abstracting from them.