Raida, Žemėlapynas, Vadovėlis, Metraštis, Žinynas, Kelionė
Kiekvienas pertvarkymas savaip išreiškia Dievo vaidmens raidą.
Priežastingumas sistemoje - seka ()()(), o iš už sistemos - medis ((())).
Plačiausias požiūris - raida - o siauriausias - klajonė.
Raida: auga į begalybę - tai išorinė tvarka, plintanti.
Žinynas: Sąsaja -> seka (atsiranda metrika (metric))
Metraštis: intervalas, tai vidinė tvarka.
Susieti su trejybe: Nusistatyti (medis 1-židinys), vykdyti (seka 2-židiniai), permąstyti (tinklas 0-židinių).
Iš sekos (vykdymo, 0-židinių) eina atgal, iš antros į pirmą tvarką, kolei apeina trejybės ratą. Paskui eina atgal - pirmyn, iš pirmos į antrą tvarką.
Vidiniai požiūriai (kaip antai, susivaldymas) valdo išorinį požiūrį (kaip antai, teisingumą) pertvarkymu.
Pertvarkymai tampa vidiniai, užtat iškyla vidinis prieštaravimas. Pradedant metraščiu: prieštaravimas gali būti dalinis.
Pertvarkymas: tarpas tarp išorinės sandaros ir vidinės sandaros, panašiai kaip kategorijų teorijoje, tarp tvarkos objekte ir už objekto.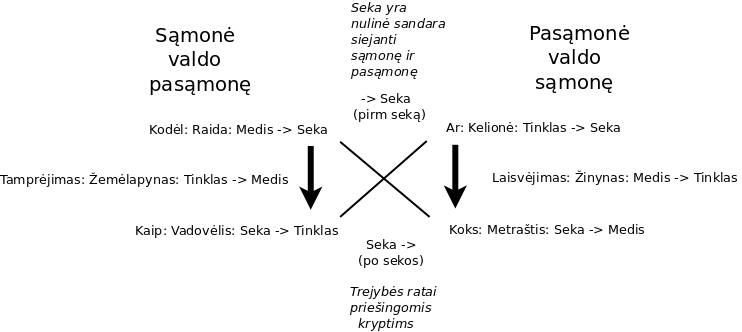 Pertvarkymų seka:
M => S
T => M
S => T
S => M
M => T
T => S
Pertvarkymai išsako ryškėjančią prieštaravimo galimybę.
Raida išsako brandą, būsenos pasikeitimą.
Žemėlapynas išsako požiūrių įvairumą.
Vadovėlis išsako galimybių įvairumą.
Metraštis išsako prieštaravimo vietinį pobūdį.
Žinynas išsako neįmanomumą išsakyti visas sąlygas.
Kelionė išsako galimybė skirtingai rinktis tose pačiose sąlygose.
Sąmoningumas sieja dėmesį (susitelkimą) ir modelius. Pertvarkymai, tai modelių (ir valdymo) rūšys. Tai modeliavimo (didelės tvarkos pertvarkymas maža tvarka) modeliai.
Mažoji tvarka yra mūsų dėmesio tvarka. Jinai turi skirtis nuo didesnės tvarkos, kad galėtumėme atskirti savo dėmesį. Tai galimas dėmesys, galimi taškai dėmesiui, kuris nukreipiamas į vieną kurį tašką.
Modeliui reikalingos trejybės būsenos, dalyvavimo būsenos: jis turi būti nepriklausomas, būti taikomas ir būti vertinamas. Užtat modelis pats modeliuoja save, tai įvyksta trejybe.
"Pasaulis" ar "aplinka" yra vaizduojama skaitlinga tvarka, irgi pagal trejybę: medis (buvimui), seka (taikymui), tinklas (vertinimui).
Modeliavimas yra trejybinis išėjimas už savęs. Tai vienos sudėtingos būsenos pakeitimas kita, paprastesne, apytikria būsena. Užtat tai pertvarkymas.
Sąmoningumas yra: dėmesio telkimas (veikimas), to dėmesingumo numanymas (buvimas), taip pat jų atitikimo įsidėmėjimas (mąstymas). Pastarasis leidžia keisti veiklą (dėmesį) arba raišką (žinojimą).
Dėmesingumas yra įvairių reiškinių dėmesio apibendrinimas esamam reiškiniui. Sąmoningumas yra įvairių asmenų dėmesingumo apibendrinimas ir pritaikymas sau.
Ištirta, jog kairinis pusrutulis mąsto kaip ir dalis, o dešininis pusrutulis mąsto koks ir visumą. Pertvarkymas sieja visumą ir dalis, tad įdomu tą ryšį geriau suprasti.
Pamąstyti, kaip tvarkų (sekų, medžių, tinklų) skirtumas susijęs su apdorotojų skirtumu ir su trejybės ratu - perėjimams iš vieno nario į kitą tenka pereiti iš vienos tvarkos į kitą. Ar vykdymui būdinga seka,
nusistatymui medis ir mąstymui tinklas?
Medis auga kurdamas vis naujus narius, taip kad visi nariai yra būtinai skirtingi, ir jų skirtingumas išplaukia iš ankstyvesnių narių skirtingumo. Naujas ryšys sieja seną narį su nauju nariu. O tinklas augdamas gali sieti du senus, esamus narius, arba du naujus narius, arba seną ir naują. Tad tinklas įsimena visus narius, bet nedraudžia juos sieti. O tinklas draudžia sieti narius bet juos visus laiko visuma.
Mylėti save (seką), kitus (medį) ar visus (tinklą). Medžiu pats tvarkai visumą, o tinklu visuma yra už savęs, esi dalis jos.
Bandyti naujai suprasti šešis pertvarkymus juos papildant septinta vidine ir aštunta (jokia) tvarka.
Simetrinių funkcijų bazės, įvertintos tikrinėse vertėse, gal išsako persitvarkymus. Pavyzdžiui, užmirštoji bazė išsakoma dvejomis abėcėlėmis, tai gal ryšys tarp dviejų tvarkų.
Lygmenų poros
Šeši laipsniai nuo asmeninės tiesos iki besąlygiškos tiesos sieja lygmenų poras:
Raida: Kitas (malda) ir Tu (išsiaiškinimai)
Žemėlapynas: Kitas (malda) ir Aš (elgesys)
Vadovėlis: Tu (išsiaiškinimai) ir Aš (elgesys)
Metraštis: Aš (elgesys) ir Dievas (šokis)
Žinynas: Tu (elgesys) ir Dievas (šokis)
Kelionė: Kitas (malda) ir Dievas (šokis)
Nesusivedimai, pertvarkymai
Nesusivedimai eilės tvarka - naujasis nesusivedimas išsprendžia ankstyvesnį nesusivedimą. Šitą reikėtų išmąstyti sandarų atžvilgiu, kaip viena sandara naujai permąstoma.
Palyginti pertvarkymus su permainomis:
raida = atspindys
žemėlapynas = ištiesinimas
vadovėlis = pasukimas
metraštis = dydžio nustatymas
žinynas = palyginimas
klajonė = perkėlimas
Mes valdome savo veiksmus. Seka yra suvaldoma, tiek baigtinė, tiek begalinė. Tad atbulai veikiame, suvaldome tvarkas, kolei suvaldome seką (gero vaiko kryptis - išskiriame esmę). Tada apsiverčia ir atsiremdami į Dievą galim amžinai plėtoti (blogo vaiko kryptis - esame atviri).
O pertvarkymus papildome Dievu ir gerumu (vidine tvarka - lentelėmis) kurių nereik išsakyti. Visa tai susideda į aštuongubį kelią.
Medžiu nusistatome, seka vykdome ir tinklu permąstome.
Medis išskiria sąvokas, kad jos būtų ko toliau nuo vienas kito, nors ir ko lengviau prieinamos. Medis turi Vieną židinį.
Tinklas sieja sąvokas. Tinklas Neturi židinio.
Seka kiekvieną sąvoką išsako vieną kartą. Seka turi Du židinius, pradžią ir pabaigą.
Židinių skaičius ir atitikimas trejybei leidžia suprasti pertvarkymų eigą. Iš pradžių tvarkomės su pirmine, begaline tvarka, ją apgename, vis paverčiame baigtine. Taip, pradedant baigtine seka prieiname prie begalinės sekos. Taip prieiname prie besąlygiškumo, prie Dievo požiūrio. Tada viskas apsiverčia ir iš begalinės tvarkos einame į baigtinę tvarką, auginame, plėtojame naują, antrinę, papildomą tvarką. Vadinas, pirma atsigręžiama į tvarką grindžiančią tvarką, o paskui susitelkiama į tarp tarp tvarkų. Taip ieškomas kiekvienos tvarkos tikslas. Priedo, taip supaprastinama tvarka - raidos begalinis galimybių medis tampa metraščio laikotarpių medžiu; žemėlapyno begalinė ryšių raizgalynė tampa esminių apylankų tinklu; vadovėlio begalinė nurodymų seka tampa esminių žingsnių vėrinys. Taip išgaunama esmė, išverčiant tvarkų tarpą.
O ženklų savybių poros (medžiai, tinklai, sekos) išgauna tuos tvarkų tarpus.
M S 1<-2
T M 0<-1
S T 2<-0
S M 2->1
M T 1->0
T S 0->2
Pertvarkymais žengiame trejybei priešinga kryptimi: iš vykdymo seka į nusistatymą medžiu; iš nusistatymo medžiu į permąstymą tinklu; iš permąstymo tinklu į vykdymą seka. Iš pradžių tai vyksta iš baigtinės tvarkos į nesuskaičiuojamą tvarką, bet apėjus ratu vieną kartą persivirsta ir vyksta iš nesuskaičiuojamos tvarkos į baigtinę tvarką. Tokiu būdu iš pradžių ieškoma baigtinės tvarkos pagrindo, o paskui išreiškiamas tvarkų vidinis tarpas ir ieškoma jo tikslo.
Pamąstyti kaip tokie dvigubiniai pertvarkymai išreiškia ženklų savybes, tuo pačiu medžius, mikrosavybes (tinklus) ir sagas (sekas):
begalinis medis permąstomas seka, o ta seka paskui medžiu; taip kad pirmą medį naujai mąstome išvestiniu medžiu
ir atvirkščiai, begalinė seka permąstoma medžiu, o tas medis raida; taip kad sekoje įžvelgiame rinktinių intervalų junginį, panašiai, kaip Kantoro aibėse
begalinis tinklas permąstomas medžiu, o tas medis patikslinamas tinklus; taip kad antras tinklas yra pirmojo tinklo suvokimo patikslinimas, jo išvestinė
ir atvirkščiai, begalinis medis patikslinamas tinklu, o tas tinklas aprėpiamas žemėlapynu
begalinė seka pertvarkoma tinklu, o tas tinklas išvaikščiojamas seka; taip kad begalinėje sekoje atrenkame ir susiejame esminius taškus
begalinis tinklas išvaikščiojamas seka, o ta seka pertvarkoma tinklu.
Tai gali padėti ženklų savybėmis susieti su asmenų poromis. Viena lygmenų ar tvarkų pora yra papildinys kitai lygmenų ar tvarkų porai, ją papildo ar "myli".
---
A perspective on all circumstances. Building blocks (strings of letters) - Malleable - Evolution - Matters of Order - One perspective - discuss preferences: Do I truly like this? How does it seem to me? (extending a sequence)
Any perspective on all circumstances. Diversity of niches - Modifiable - Atlas - Matters of Existence - Two perspectives - truly need this? What else should I be doing? (creating branches of the tree)
Any perspective on any circumstances. Nonlinearity - Mobile - Handbook - Matters of Participation - Three perspectives - Is this truly real? Would it make any difference? (creating detours)
All perspectives on a circumstance. Internal models (operators as factors) - Memorable - Matters of Knowledge - Four perspectives - Chronicle - Is this truly problematic? What do I have control over? (noting limits of an interval)
All perspectives on any circumstance. Tags (equivalences) - Meaningful - Catalog - Matters of Decisionmaking - Five perspectives - Is this truly reasonable? Am I able to consider the question? (distinguishing between inside and outside of branch)
All perspectives on all circumstances. Flows - Motivated - Odyssey - Matters of Morality - Six perspectives - Is this truly wrong? Is this the way things should be? (characterizing the nature of feedback loops, whether they lead forwards)
They - no perspective, You - a perspective, I - any perspective, God - all perspectives
God - no circumstances, I - a circumstance, You - any circumstance, They - all circumstances
God (spirit) - no perspective, I (structure) - perspective, You (representation) - perspective on perspective, They (unity - gap) - perspective on perspective on perspective
Relate 4 persons and 6 conversations to 6 restructurings. Look at properties of life. Look at commandments, at qualities of signs.
Love supports life and eternal life
Counterquestions yield combinations.
Evolution: a perspective on all circumstances
Atlas: any perspective on all circumstances
Handbook: any perspective on any circumstance
Chronicle: all perspectives on a circumstance
Catalog: all perspectives on any circumstance
Odyssey: all perspectives on all circumstances
Note how the gap grows better defined, from thing to flow. How does it relate to the properties of life? To the lessons between Them, You, I and God? To the qualities of signs? To the counterquestions? To the divisions of everything? How we invert everything.
Life is the goodness of God. Counterquestions relate perspective and situation. Ways of figuring things out develop concepts.
The gap grows more defined, until there is a gap within the gap.
Where do the persons come from? Consider the qualities of signs, the counterquestions, the ways of figuring things out, the commandments.
Ways of learning, growing more defined.
Relate to ten commandments...
Love's support of ambiguity, increasing variety. Between undefinition, generality (God) and definition, specificity (They).
A unity of knowledge involves different points of view.
              God's Mind

       A moment of eternal life.

              Here and now!

           Crossing the river 

                Saved by grace

God doesn't have to be good...
and the good kid's world
       The bad kid's world

Catalog: The counterquestions have us take up wider perspectives. Relate to the counterquestions as ways of figuring things out... ways of better defining - refining definitions... (evolution: judge the tree by the fruit); atlas: judge the big by the little; handbook: judge yourself as you judge others; chronicle: wait for the master, share in the treasure; catalog: belong to the lord, share in the favor; odyssey: follow the teacher, share in the virtue ??? How things become defined - what happens to the gap - qualities of signs? pairs of levels? - meaning keeps getting progressively added - divisions of everything
Ways of learning (breaking up with the secondary, finite structure) are related to how things become defined (the primary structure's substrate becomes apparent).
Do I truly like this? How does it seem to me? (moving along the sequence) - Evolution - clarifying one's deepest value - define the mental circumstances by empathizing with them, their wholeness, their center, so that they grow ever sharper (like lamb, like nearsighted child, seated in God's lap - identify with what I see (what seems) as it grows more clear - center myself in the seeming) One way to figure things out is to empathize with what we take to be the center of such a system and imagine what we see as it unfolds: How does it seem to me?
Do I truly need this? What else should I be doing? (creating branches of the tree) - Atlas - establishing the available perspectives, thus, the limits of the mind - defining a structure by the variety of perspectives that it allows for
Is this truly real? Would it make any difference? (creating detours) Handbook - ranking judgements, thus, figuring things out - compare and contrast, define essential features of a structure
Is this truly problematic? What do I have control over? (noting limits of an interval) Chronicle - placing interactions with God in context (within our limited interval) - define my purpose - my role - with regard to my limited circumstances
Is this truly reasonable? Am I able to consider the question? (distinguishing between inside and outside of branch) Catalog - sort out the contributions of God (outside branch) and good (within our limited branch) - Note existing categories, their sufficiency, define accordingly, distinguish answers, distinguish well defined or not.
Is this truly wrong? Is this the way things should be? (characterizing the nature of feedback loops, whether they lead forwards) Odyssey - nurturing a culture of feedback loops (within our limited network) between God and love - Live out tensions, note completeness, including contradictions - define contradictions.
Am I doing anything about this?
The first structure is taken as fixed and the second structure as a changing perspective. (Relate this to the qualities of signs and their two levels). There is thus coordinated movement between the structures. They are coupled. Also, the first structure can be thought of as a situation and the second as a perspective, so that together they define a counterquestion.
The second three reorderings have to do with a circumscribed primary structure, which may be endless but yet has certain limits, thus an inside and an outside, which can be distinguished. These primary structures may be associated with growth as defined by the previous reorderings, where the secondary structure defines the growth of the primary structure. Also, each pair may be thought of as describing learning and growth, thus eternal life.
Malleable - growing tree/sequence, memorable - pruning; (grows (walks) away from root, prunes towards root)
Modifiable - growing network/tree, meaningful - pruning; (grows nodes, sprouts branches, prunes - breaks into pieces)
Mobile - growing sequence/network, motivated - pruning; (grows end, extends it, prunes middle)
Pruning grows the gap! Meaningful experience of absence.
Look for how the gap is defined within the gap. Note also how growth is defined.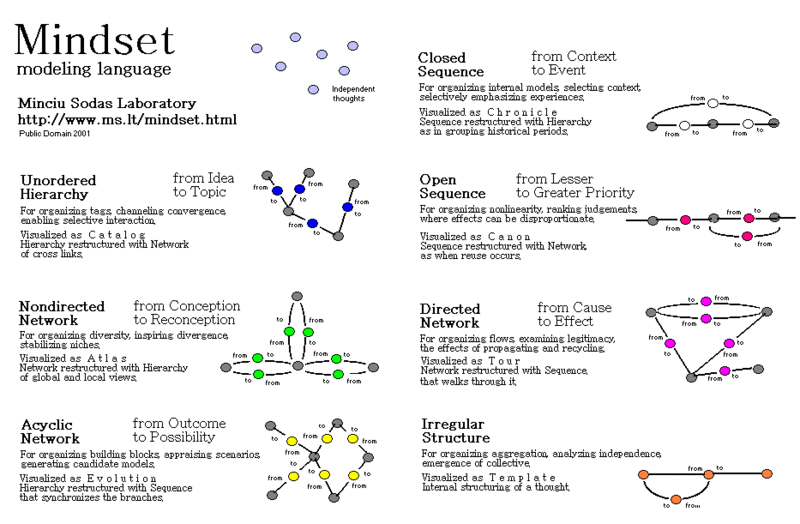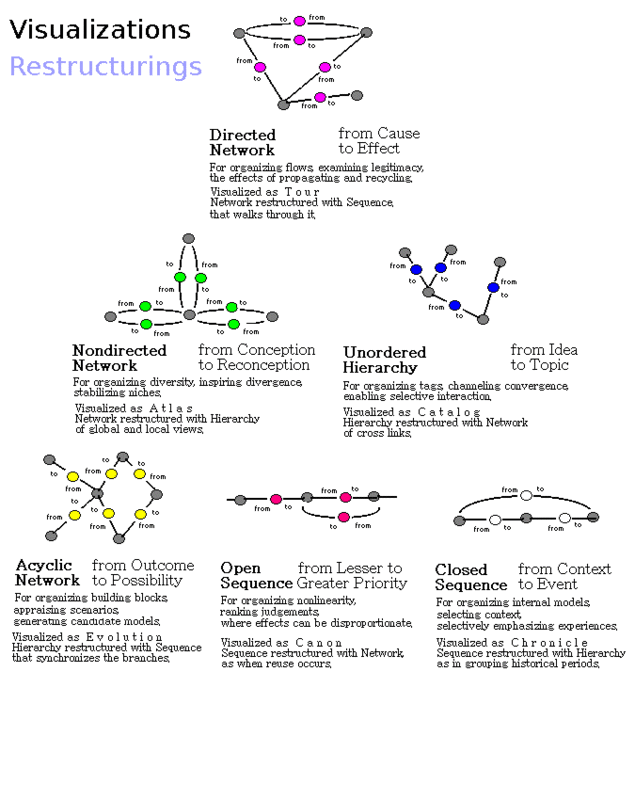 Visualizations are restructurings that allow us to consider prospective choices as both thoughts and actions on thoughts. The primary structure gives the thoughts that are acted upon, and the secondary structure gives the thoughts that act. These structures are: sequences, hierarchies or networks. The secondary structure must differ from the primary structure.
The three external structurings are hierarchies , sequences , and networks. It is an open problem how to structurally derive definitions for them. Related structures: Applying to something the mechanics inherent in the properties of everything . The foursome, fivesome, sixsome. The emotional dimensions . The markings of the foursome: malleable and memorable are expressed in terms of trees (hierarchies), modifiable and meaningful are expressed in terms of microattributes (networks), mobile and motivated are expressed in terms of tokens (sequences). [9/99, Andrius Kulikauskas]
[http://www.ms.lt/ms/projects/structurekinds/paper052499.html Organizing Thoughts into Sequences, Hierarchies and Networks] by Andrius Kulikauskas and Saulius Maskeliunas
===Discussion===
The six restructurings, visualizations (chronicle SH, catalog HN, canon SN, evolution HS, atlas NH, tour NS) lead me to think that: The structures may agree in spirit, but not match up item by item. The restructurings have us change our organizing principle (where S is sequence, H is hierarchy, N is network). This change occurs because the first organizing principle is too robust, and breaks down, because our mind can't encompass it. So our mind patches it up with a second organizing principle. This allows for visualization because our mind can stay fixed on the first organization, and our mind's eye can move about the second organization. But here there is no higher or lower amongst S, H, N. They are a very different structure. So how are these structures to be reconciled? The qualities of signs come in pairs, in complements. Likewise, the restructuring come in pairs, reversals. These pairs seem to match, I will have to explore this. [Do the three pairs accord with: care, believe, obey?][Do they express the mental movements of the foursome (knowledge), fivesome (decision making), sixsome (morality)?] [Do they relate to "stands, actions, thoughts" as in the ways or re-thinking, such as "our own thoughts"?]
It does seem that the "presence" which relates
"work takes shape" and "goal is achieved" is one of obeying;
"every effect has its cause" and "not every cause has had its effect" is one of believing;
"having needs has us anticipate needs" and "making choice has us anticipate choices" is one of caring.
I think that "obeying, believing, caring" are critical to life, and the different kinds of structure are providing different structural frameworks for expressing them in different but shared ways. I will pursue this further.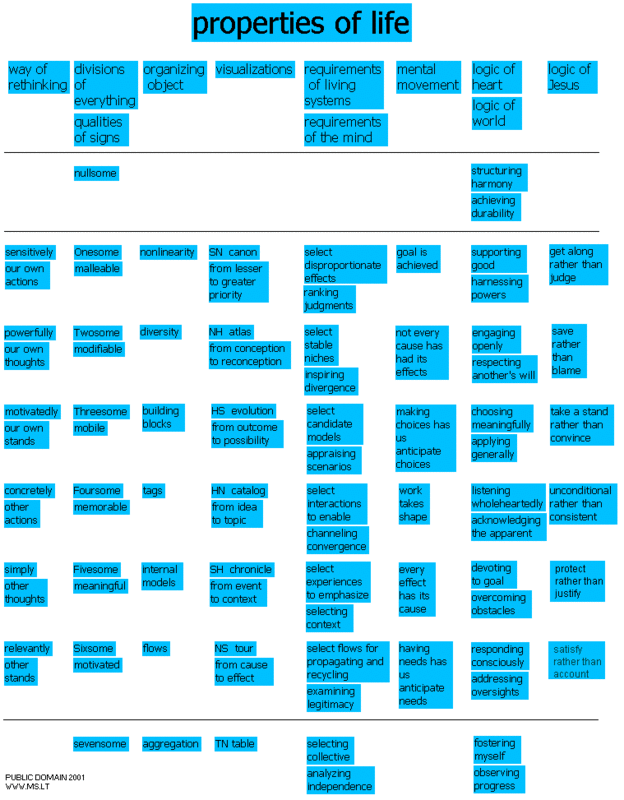 Dievas išeina už savęs tvarkomis:
+1 skaidymu (medžiu) - padalinimais - nusistato iš to ką mąsto
+2 požiūriu (seka) - atvaizdais - mąsto, ką vykdo
+3 sąsajomis (tinklu) - aplinkybėmis - vykdo, ką nusistato
ir mes panašiai bręstame. Tvarkų eiga apsiverčia, kaip kad žinojimu klausimas išverčiamas atsakymu:
1) raida: medis auga vis naujais laipais, link įvairovės 4) metraščiu: einama link medžio kamieno, link aprėpimo;
2) žemėlapynas: abipusiai nariai sieja tinklo narius esančius netinklo naryje, 5) žinynas: vienpusiai ryšiai sieja netinklo narius;
3) vadovėlis: nurodymų seka teka pirmyn, 6) klajonė: priežasčių seka nagrinėjama atgal.
Užrašai
Raiška: Požiūris - seka, padalinimas - medis, nuoroda-įvardis? - tinklas. Sekos apsukimas. Medžio apvertimas, tinklo apvertimas.
Prieštaravimas išeina už savęs į neprieštaravimą per pertvarkyme siaurėjantį tarpą tarp dviejų tvarkų.
Pertvarkymai du skirtingus žinojimus (tvarkas - vieną didelę žinojimo tvarką ir kitą mažesnę nežinojimo tvarką) sieja nežinojimu (tarpu).