Klausiu žmonių, ką jie gvildena? Kurį klausimą dar nėra atsakę, bet norėtų atsakyti?
Klausimus išdėsčiau dviem matais:
Nuo paskiro asmens Aš iki bendruomenės. Tai bene didėjantis laisvumas, gerėjimas, branda.
Nuo teigiamo (dvasios perteklius - bendra dvasia mumyse) iki neigiamo (dvasios stygius - žmogus be dvasios). Tai bene mažėjantis laisvumas.
Kodėl žmonės klausia klausimus? 2017.03.14 su Tomo Kačerausko klase sugalvojome tokias priežastis:
Nothing better to do
To know the answer
To decide something - to help us make decisions
To see where questions can lead us - curiousity
We are afraid not to have the answer
We need an answer to help us in our work towards a solution
We need an answer to clarify what another person wants
We are afraid of not knowing
We are socializing, making friends - social grooming
We are afraid of not knowing - we want to put the question in a box - we want to know what we don't know so that we can expect it
We want to understand ourselves, be more conscious of ourselves
We want to annoy others by asking obvious questions, repeatedly
We want to control others
We want to activate others, free them
Then I drew some diagrams of these different kinds of questions. I am thinking that there are 12 = 4x3 types. I think that we can care about the answers; the activity of answering; the activity of questioning; and the questions.
Warren Berger: "Glimmer" about painter Bruce Mau, Website and book: A More Beautiful Question.
Klausimai
Dirbtuvės: Ar prasminga klausti klausimus? Duomenys: Kodėl klausiame klausimus?
Gvildenimai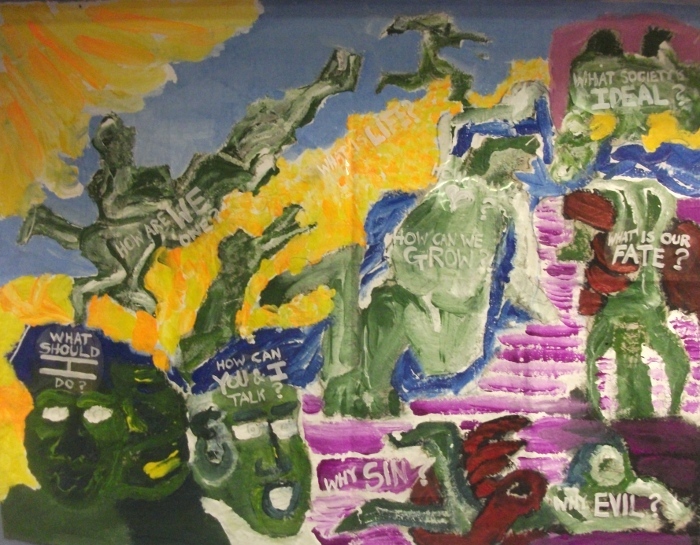 Gvildenimais bręstame, gyvename vis plačiau.